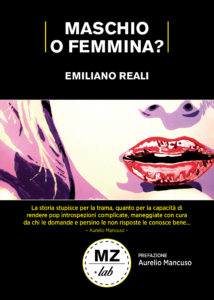 Bambi is a "she" with every reason to describe herself as such. She now must come to terms with her own truth and decide on her destiny.
With her body modified by surgery, but not to the extent she really desires. She moves to Milan leaving everything behind. There she takes on the identity of Miss Myra, a shrewd and provocative investigator of conjugal infidelity, ready to assist women who have been – or assume they are – betrayed. Like a bloodhound, her shadowing, evidencing, and her innate skill at metamorphosis, reveals the betrayal of Mr. Riso. But Mr. Riso's truth is one she's knows.  A truth she is not sure she can share with his wife.
Once more the magnificent Desideria treads the stage, albeit on the sly in the guise of Francesco, the prodigal son who, returning from Rome for his father's funeral, decides to resurrect the paternal restaurant, fallen on hard times owing to his father's lengthy illness ending with his demise. Francesco transforms himself into the seductive waitress Desideria, a femme fatale who attracts customers, not least the young heir of a wealthy family who, after discovering her secret, could ruin the family restaurant.
Anna, Giacomo/Bambi's sister, travels to Rome to search for her brother out of anger at his lies and lack of communication. He left her with the burden of their parents. Anna returns home to Bassano del Grappa, disheartened, and ready perhaps to reveal his deceit to their parents.