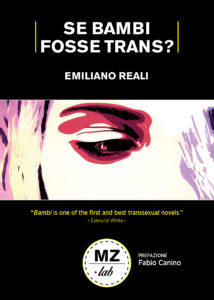 A young couple rejects the closed and mental backwardness of their hometown, Bassano del Grappa, and flee to Rome, a city with potential. He is Giacomo, who even as a little boy liked cross-dressing in secret to live, ready to bud, what his nature will later bring to flower. She is Luana, in love, dependent right from the beginning of this relationship, from cowardice incapable of recognizing the gaps that would soon become unbridgeable chasms.
Rome is a nocturnal enchantment for those who, like Giacomo, feel the throb of unrestrainable desire for new emotions: in gay bars and casual encounters in the gay quarter, he comes up against mutual seduction, man to man. But he thirsts for more. Finally, he gets to know some transvestites, who sow in him the seed that will bring Bambi to life. This occurs when he meets Desideria, the best, the superb, who transforms Giacomo into the amazing Bambi and accompanies her, hand in hand, with advice and suggestions that only the best teacher can provide, into the inviting and perverse world of pleasure bought and sold.
Thus, begins a double life. Until the inevitable happens. Bambi is tempted, wants to go against her teacher's rules, and ventures out with two unknown young men. In a flash, lying bleeding on the street, wounded inside, battered outside, who can rescue her but the one that truly loves her? Luana rushes to save her beloved, only to find the lie revealed in all its crudity.
Now Bambi is alone, Desideria has vanished and Luana has left her. But Giacomo's good fortune has a surprise in store: a man who falls in love with him, Marco.  But will Giacomo be able to keep Bambi caged or will Marco suffer the same betrayal as Luana?